6 ways truckers can stay safe during the pandemic
7/6/2020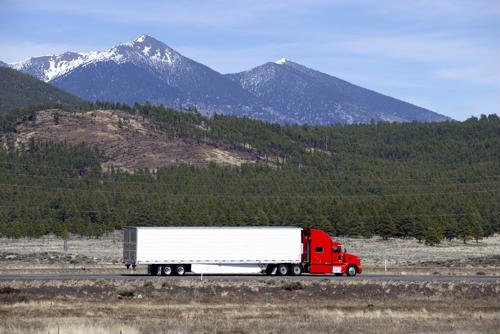 Being a professional truck driver means you have been one of the workers on the front lines of the pandemic over the past several months, and unfortunately there is no end in sight for this emergency. For that reason, truckers should regularly review their efforts to keep themselves safe and healthy and see if they're maintaining all the properly recommended measures for avoiding infection risk.
Even as more cities and states "open up" once again, truckers can't let the following safety measures slip, given how many people they come into contact with on a daily basis.
1) Wear a mask, gloves and even eye protection
This is something most drivers have likely been doing for months, but now is not the time to let the habit slip, according to Transflo. Having a washable mask, disposable gloves and even glasses or goggles to protect your eyes is best practice at this time, and you need to be proactive about making sure you wear them whenever you're out in public.
2) Don't touch highly trafficked surfaces
Whether it's the keypad on a fuel pump, the counter in a convenience store or a bench at a rest stop, letting your skin come into contact with a surface you can't always trust isn't a good idea, Transflo said. As such, you should be sure to either avoid touching them directly, or use a high-quality hand sanitizer immediately after any time you do.
3) Sanitize your truck regularly
Along similar lines to washing your hands regularly, it's also a good idea to make sure you're giving all the high-touch surfaces in your cab a good cleaning and sanitizing on a regular basis, according to Omnitracs. Something as simple as using bleach wipes on your steering wheel, dashboard, table and so on will help you avoid infection risk.
4) Give everyone a wider berth
While you may not always be able to avoid it, doing everything you can to keep six feet between yourself and other people - and otherwise following all social distancing protocols - is certainly a good idea for the foreseeable future, Omnitracs noted. Any time you do have to come into closer contact with others, it's important to redouble your sanitizing efforts as well.
5) Check for the latest recommendations
Unfortunately, the novel coronavirus pandemic is still an incredibly fluid, evolving situation, meaning that the recommendations health experts make today might not apply tomorrow, according to GPS Trackit. For that reason, you should be proactive about looking up the latest recommendations on a regular basis and figure out how you can keep up with the best practices.
6) Be aware of your unique health risks
In addition to everything else you need to consider at this time, you certainly also have to think of your own preexisting health risks, because these can complicate matters, GPS Trackit added. If necessary, make time to talk to your primary care physician to see what steps they would recommend for keeping yourself safe, based on your own personal health history and needs.