4 tips for safer summer driving
6/17/2020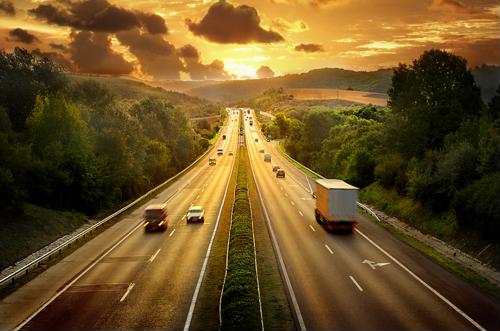 Trucking isn't an easy job even in the best of times, but it can be trickier now, because many people may see summer as the perfect season to hit the road. In some ways, that actually may be part of the reason why truckers need to be even more vigilant when the temperatures rise, simply to make sure they're staying safe on the nation's highways and byways.
Of course, there are more risks on the road in summer than additional traffic, and as a pro hauler, you need to be aware of as many of them as possible. That understanding will help you avoid some of the common accident and health risks associated with this time of year, including the following steps:
1) Be aware of risks posed by the sun
There are two primary concerns you should have about dealing with sunshine in the summer, according to Fleet Clean. Perhaps the clearest it can cause some real glare problems and potentially blind you temporarily as you drive down the road, making it more difficult or dangerous to drive - even in a straight line.
Less obvious, however, is the fact that the hot summer sun can damage your skin. For that reason, make sure you're applying sunscreen as recommended by health experts, wearing long sleeves, a hat, sunglasses and so on. This can help reduce not only the irritation that comes with a sunburn, but also your risk for skin cancer.
2) Stay hydrated
When temperatures rise, the odds of suffering heat stroke and other sun-related health risks rise right along with them, Fleet Clean said. As a result, try to be conscientious about drinking plenty of water - as opposed to soda or coffee - throughout the day to make sure your body functions at its peak. Getting a refillable bottle is usually the best way to accomplish this goal.
It's worth noting, however, that just because your truck is air conditioned and comfortable doesn't mean you can let these efforts slip. If it's going to be hot when you get out of the cab, it's best to be safe than sorry.
3) Expect to share the road with more motorists
As mentioned above, summer is a time for people of all backgrounds to hit the roads for some fun in the sun, according to CDL Training. You should be mentally prepared to deal with more traffic, drivers who might not be paying attention and so on. That need to be vigilant is especially heightened as more states "open up" once again, and people actually have somewhere to go.
4) Be more thorough in your inspections
There's little doubt truckers are vigilant about looking over their vehicles before they hit the road, but summer brings with it some conditions that require more attention, according to Schneider. The wear and tear on your tires and other components can increase in the heat, so a closer look is certainly advisable at this time of year.