6 ideas to improve morale for truckers
2/12/2020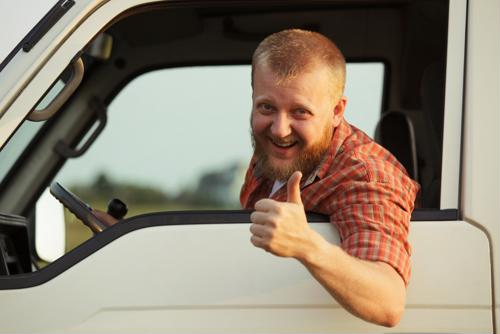 Being a truck driver isn't the easiest job in the world, and turnover rates make it clear that many companies have trouble retaining truckers on an ongoing basis. With that in mind, any freight company has to ask itself whether it's doing all it can to truly maintain high levels of morale and engagement among their pro haulers, especially those who have been in the business for years or decades.
The following tips may help any trucking company do a better job of keeping its drivers happy:
1) Publicly and privately acknowledge success
When a trucker has pulled off a difficult job with ease or simply shown a long record of getting things taken care of on time and without hassle, it's a good idea to recognize those contributions, according to Roeder Cartage. Following up on those kinds of great performances with an award or simple recognition is always a good idea.
2) Improve communication
It's not necessarily easy for truckers to feel connected to their companies in a tangible way, but making communication a two-way street can certainly help, Roeder Cartage noted. Truckers who know you'll be in touch with them about any issues that may arise, and that they can contact you for an honest conversation about the pluses and minuses of the job, will feel more confident in their jobs.
3) Don't micromanage
Many drivers don't want to feel like the dispatcher, or someone back at the office is breathing down their necks and keeping close tabs on everything they do, according to GPS Trackit. Especially with your more established drivers, it's a better idea to take a kind of hands-off approach until something arises that needs more direct attention. Until that time, though, it's better to assume a laissez-faire attitude.
4) More perks and better pay
It goes without saying that people like to be paid more, so companies should always strive to pay top performers better than the industry norms if they want to keep them around for the long term, GPS Trackit advised. However, pay alone isn't necessarily the issue; some drivers may also want the ability to choose their routes, spend more time at home or otherwise have a little more flexibility in their day-to-day interactions.
5) Build relationships that aren't just about work
Dispatchers should try to build personal relationships with drivers on an ongoing basis, according to Work Hound. Something as simple as spending time talking about what their kids are up to or how the college football season is going can help create lasting bonds - on both sides of the relationship - that help keep all involved a bit happier.
6) Take responsibility
Nothing is ever perfect in the business world, or anywhere else for that matter, Work Hound added. For that reason, when things go wrong, companies would be wise to own up to their part in those problems, and help drivers find solutions. That way, truckers won't feel like they're dealing with these issues on their own.