Freight demand waning, but still sky-high
8/1/2019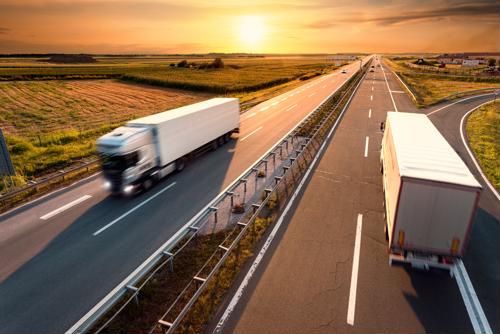 Last year was an incredibly strong year for the freight industry - as shipping demand grew and trucking companies scrambled to keep up the pace with their hiring efforts. However, it's becoming apparent that there has been a slight step back in 2019. A confluence of factors have seemingly come together to create this unfortunate reality, but it nonetheless remains and many companies are trying to figure out what to do about it.
While 2019 started with some continued momentum from 2018, things have slowed a bit recently, with the cost per mile of hiring a truck and driver dipping to about $1.89 in June, down 18.5% on an annual basis, according to The Wall Street Journal. Nonetheless, there's still a huge difference between the number of trucks (and drivers) available and the number of loads being shipped nationwide; while the proportion of shipments to available trucks has fallen by half, that ratio is still about 3 to 1.
"We're three months into a freight recession," Jack Atkins, a transportation analyst with Stephens Inc., told The Journal in late July.
Automakers are, however, expected to continue churning out tractor trailers in the months ahead just to work through much of the backlog that's built up in recent years, the report said. Moreover, many industry insiders say the sector is growing, just doing so at a much lower rate than was seen previously.
What comes next?
While the first half of the year was certainly down for the industry as a whole, that may not last much longer, according to Business Insider. In a recent note to investors, an analyst at Morgan Stanley noted there are "signs of hope" the industry could bounce back in the second half - such as an apparent growth in orders from retailers - but it's unlikely the step back the sector took from January to June tok will be completely erased.
Simply put, this seems to be an issue of supply and demand, and demand has softened a little while supply has increased thanks to the strength of 2018, the report said. Growth is still growth, even if it's muted, but some drivers and freight companies are certainly feeling the pinch for the time being.
Manufacturers adjusting expectations
As noted, many automakers are still hard at work putting new tractor trailers on the road, but they are anticipating a slowdown in demand for new trucks toward the end of 2019 and the entirety of 2020, according to new data from ACT Research. This trend could, in fact, already be underway.
"Since March 2018, ACT's forecasts have targeted 2019's third quarter as the point at which the supply of Class 8 tractors and demand for freight services would likely tip so far as to break the current period of peak vehicle production, as demand reverts to the mean," said Kenny Vieth, ACT's president and senior analyst.
Companies concerned about their ability to attract and retain drivers in this environment would be wise to ensure those haulers are well taken care of, in terms of strong salaries and benefits, even in the face of slowing demand growth.