Truck ergonomic improvements: Useful for comfort and safety
7/29/2019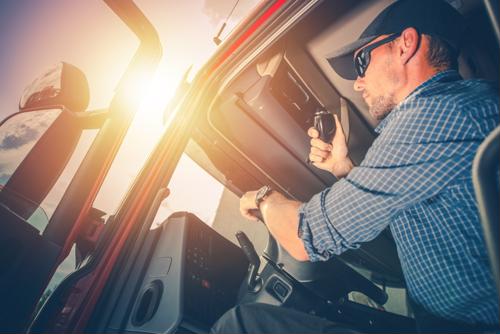 With every new truck model year that debuts, big rig cabs become more comfortable for drivers. The upgrades aren't just designed to encourage owner-operators and fleets to flip their old vehicles for replacements, either. The latest rounds of changes to everything from seats to windshields and beyond have been designed to solve a persistent issue with the trucking industry: It can be tough to keep drivers comfortable and healthy when they have to sit down and drive for long hours each day.
The inherent inability to get up and move around while a truck is in motion means truckers have to find alternative ways to keep their posture strong during days of sitting down, preventing fatigue from setting in and minimizing the distraction of discomfort. Ergonomic upgrades can deliver these results for drivers, and can even keep them safer during their extended drives.
Reduced fatigue and distraction are the goals
A truck driver experiencing constant stress or strain while driving may wear out more easily, and this could increase the risk of an accident. When original equipment manufacturers design their cabs to be more hospitable to operators, they are therefore guarding against danger. Ryder System Inc. Director of Supply Management Nic Signorini told American Trucker there are several ways to reduce the strain experienced by drivers. Helpful new features include adjustable steering wheels as well as seats that accommodate different body types.
Al Lacombe of Dupre Logistics stated to American Trucker that his company has invested in improvements such as seats with better lumbar support, as well as grab handles to reduce the strenuous movements needed to get in and out of a truck cab. Better comfort and less fatigue are the twin goals of all these design changes. Truckers who feel better supported in their seats are more likely to be happy with their chosen vehicles and less worn down by the hours they have to spend on the road.
Some of the most useful feedback on how to design these features comes from the drivers themselves. According to American Trucker, Volvo Trucks North America creates its ergonomic upgrades based on the results of field studies. One recent survey carried out by Volvo delved into ways to place controls so that drivers don't have to reach far to access them.
Ergonomics is a safety issue
When dealing with the risk of driving accidents, heightened comfort and lessened fatigue closely related and advantageous in multiple ways. Work Trucks Online pointed to the potential bottom-line issues that come with fatigued employees behind the wheel. Tired drivers are less productive than their more comfortable equivalents, and they are more likely to suffer minor injuries - which trigger worker's compensation claims - and suffer serious accidents, the human and financial costs of which can be immense.
Work Trucks Online noted that when fleet owners purchase new vehicles, they should factor in cost-avoidance based on improved ergonomics. A vehicle with a slightly higher sticker price that keeps drivers comfortable may prove to be far superior to a low-cost model that creates undue stress and strain on operators.