6 ways to stay safe driving in extreme heat
6/24/2019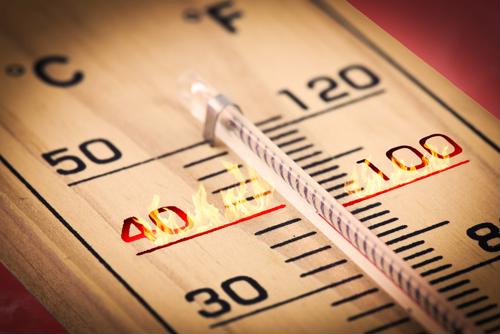 With July nearly here, temperatures across the U.S. are soaring, and that increases risk on the road for drivers of all stripes. Especially among pro truck drivers, the need to stay healthy and keep their vehicle operational when the mercury rises into the triple digits is a must.
With that in mind, the following are six tips that will help drivers stay safe on the roads even in extreme heat:
1) Keep the cooling system in good shape
Of the utmost importance when you're behind the wheel is the ability to keep the engine at an operable temperature, according to Arnold Law Firm. This is important not only because it helps prevent overheating and breakdowns, but also reduces the amount of wear and tear an engine undergoes when temperatures soar, keeping your truck on the road for longer.
2) Top off the fluids
Along similar lines, it's also a good idea to make sure your truck is filled to capacity on all its vital fluids, from motor oil to brake and power steering fluid, Arnold added. That's because, as with any liquid, extreme heat can lead to evaporation of these fluids, and increase the risk of a system failure in your truck. As such, making sure fluids are topped off before and after a drive in hot weather is a must.
3) Keep water on hand
Just like your truck, it's also important to keep your body running smoothly, and that starts with staying hydrated, according to Drive Safely. While many drivers may like to drink coffee or soda to help them stay alert on the road, they should also plan to drink plenty of water throughout the day so they need not worry about dehydration.
4) Take every personal precaution
It usually goes without saying for truckers, but just in case: When temperatures rise, turn up the air conditioning in your cab, Drive Safely cautioned. That will help you avoid sweating, especially because doctors also recommend driving in long sleeves when the sun is shining bright to avoid sunburn. Similarly, wearing a hat, sunglasses and sunscreen are also a good idea when you're in direct sunlight.
5) Keep your tires properly inflated
If you have low tire pressure in extreme heat, you're at a far greater risk for blowouts, according to Aceable. That's both a safety and time concern for any driver, so it's important to make sure all tires are properly inflated. As an added bonus, this kind of effort will also make your truck more fuel efficient.
6) Use an abundance of caution
Even when you've taken all of the steps above, things can still go awry, Aceable advised. As a consequence, it's vital to keep as close an eye on everything from your engine's temperature and how responsive your brakes are to how you're feeling as you go through a day's work. When you're a little more cautious about assessing situations, you're more likely to stay safe on the roads even in the most extreme heat.