5 ways to drive safely at night
4/17/2019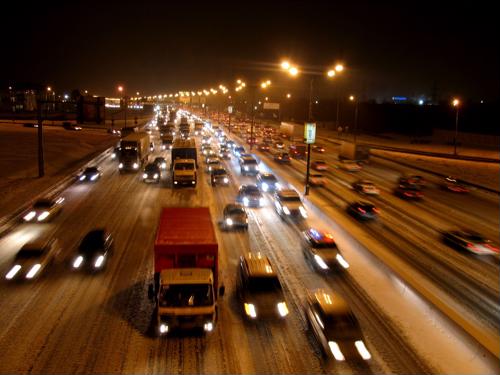 There are many reasons why truckers may prefer driving at night as opposed to during the day, not the least of which is traffic tends to thin out when the sun sets. However, there are a number of unique dangers inherent to nighttime driving that truckers must be aware of.
Below are five tips that will help you stay safe:
1) Find better ways to get some sleep
If you're going to be up all night driving, or even just a big part of the night, you'll need to make sure you're not doing any drowsy driving, according to Fleet Owner. That means getting more shut-eye during the day, and will likely require you to have a cab or other place to sleep that is as quiet and dark as possible. Investing in blackout curtains and noise-canceling headphones for your sleeper berth may be vital.
2) Know your routes
Truckers who prefer night driving say that one of the best ways to find success when roads are darker and signs are harder to see is to familiarize yourself with the routes. That way, you're less likely to miss a turn or find yourself in an unfamiliar place. Having a good GPS device can also help with this issue, but you'll need to be aware of any road work that goes on overnight, which could cause a delay or detour.
3) Clean your headlights and mirrors
At night, you need to make the most of every bit of visibility you can, so if your headlights and mirrors are dirty, you won't be running at 100% capacity and you might be at greater risk for an accident, according to the Diesel Driving Academy. As such, if you can do more to make sure these vital tools are as clean as possible, you'll put yourself in the best possible position to make the most of a nighttime drive.
4) Be more aware of other drivers
In much the same way there are greater risks for truckers with night driving, there's also the increased hazards for other drivers, the Diesel Driving Academy noted. That fact, in turn, is why there's even more need for pro haulers to make sure they're extra-cautious when the number of vehicles in their proximity rises at night. You can control a lot of factors from behind the wheel of a big rig, but you can't control other drivers' actions.
5) Know when you need a break
If you're more likely to get drowsy at night, you also need to be more capable of knowing when enough is enough and you need to pull off the road, according to CDL Training Spot. If you even start to think you might need to stop soon, it's important not to ignore that feeling. The extra time you're making up when roads are more open will usually allow you flexibility to take a quick nap or grab a bite to eat as needed.
Everything you do behind the wheel should be done with an abundance of caution, and a little research will help you identify potential areas of improvement for night driving in particular.