More women becoming interested in trucking?
3/14/2019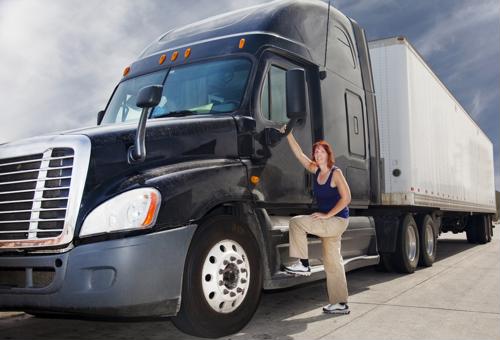 It's no secret to anyone in the freight industry that plenty of trucking jobs are available, and the benefits for new hires are growing quickly. Even the least experienced drivers coming into the sector these days have access to many perks and seemingly ever-growing pay and sign-on bonus offers. With that in mind, it appears that many women are now increasingly becoming interested in these positions, in large part because of how well they pay.
The most recent industry data suggests that only about 6 percent or 7 percent of all professional truckers are women - with men representing 13 of every 14 drivers in the sector - but they still account for a growing percentage of people in the industry overall, according to American Trucker. That's due in part to the fact that there are more support positions, such as management, that may be appealing to women in particular, including that they still pay well, provide a better work-life balance and clearer paths for career advancement.
However, there is still a substantial gender pay gap in the trucking sector that companies may need to work harder to address, the report said. As of 2016 - the most recent year for which complete data is available - the median salary for female truckers was in the mid-$30,000 range, about 28.5 percent less than the median for men.
The number is growing
While women still make up a small fraction of truckers these days, their ranks are growing, according to USA Today. As recently as 2008, fewer than 5 percent of truckers were women, and today they number more than 217,000 - and counting. Some experts believe there's an example being set by those who are already in the industry.
"It's that women are seeing other women doing it and saying 'I should do that,'" Ellen Voie, CEO of the Women In Trucking Association, a support group based in Wisconsin, told the newspaper.
At the same time, there are also some safety concerns unique to women that some drivers say they still deal with on a regular basis, and the industry may need to do more to address that to really start attracting women en masse, the report said.
What to know
To that end, the growing number of women in the industry also creates its own natural support group, with organizations such as the WIT providing valuable resources and information for women drivers, according to The Job Network. That, in addition to the example being set by other women in the field, may help them bridge what is sometimes referred to as the "confidence gap," which basically means women are not sure they would be able to excel in the sector.
When companies can do more to support women logistically, as well as when it comes to providing them with equal pay to men and high-quality benefits, they may be more likely to address their own internal driver shortages on an ongoing basis.