More women being drawn to trucking
10/22/2019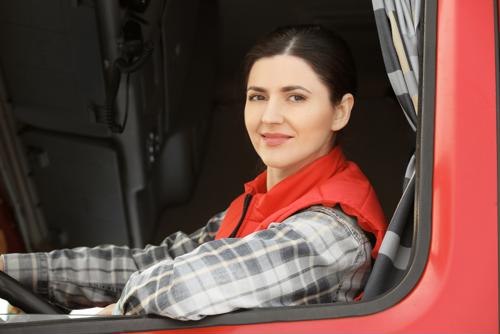 With the driver shortage still seen as a major stumbling block for the freight industry as a whole, more companies are turning to populations underrepresented in the industry at present. Increasingly, those efforts seem to be related to hiring women, who make up a disproportionately tiny percentage of all drivers nationwide.
However, because the pay gap for women in all industries is so sizable, many who get behind the wheel say they do so because they can earn just as much as men for doing the same work, according to The Wall Street Journal. Today, women only account for about 6.6% of the drivers in the industry, but the sheer volume of them has increased 68% since 2010.
As recently as 2010, the number of women in the sector was well below 150,000, but today it stands at more than 234,000, the Journal noted.
"There are many different types of driver pay in the industry, including by the mile, per load, hourly, and even salary in some cases," says ATA economist Bob Costello. "In all cases, there is no distinction between male or female. If you go to a fleet and ask how much drivers are paid, it is by experience level, routes, etc., not gender-specific."
Why it's good for business
While the number of women in the industry is still relatively small, companies are increasingly targeting them not only because of the driver shortage, but because they tend to be safer behind the wheel as well, according to The Business Journal. Data suggests that when women are driving tractor trailers, they get into accidents about 20% less often than men do.
However, there is a broad acknowledgement that, just like the rest of the business, the trucking sector needs to do a better job of attracting younger women in particular, the report said. Today, the average age of female drivers is about 50 years old, so something may need to be done to make the industry as a whole more female-friendly. That should include helping to ensure their safety, which is often cited as a reason women don't want to get into the business.
Getting it right
As with many other demographics, one of the big barriers to entry for women might be the amount of time it takes to learn how to drive a truck, according to The Hustle. They will likely have to log a lot of miles driving alongside a trainer before they're able to set out solo, and just like any other would-be driver, that could end up being a turnoff even if it is required by federal law.
With all these and several other issues in mind, it's critical for trucking companies to do more to reduce barriers for women coming into the sector to help alleviate the driver shortage. While there are some things on which companies simply can't bend, better pay and benefits offerings could be enough to help them overcome many of the misgivings women may have about the job.