Empty miles still a major concern for freight companies
10/15/2019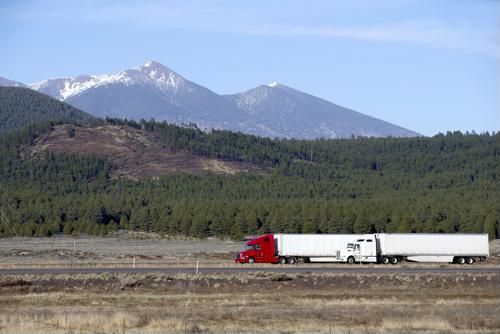 One of the biggest financial issues truckers face is the empty miles they have to rack up between runs. These are miles for which they are often being paid little, if anything, and which can take a lot of time and hassle. Even with new tech being able to help limit these concerns, empty miles remain a prevalent problem in the industry.
While it's difficult to pin down exactly how common empty miles actually are in the industry - often, companies under-report how many their drivers have to deal with - even the most optimistic "best guess" shows there's a lot left to be desired, according to Convoy. Even if shippers with preposterously low empty-mile rates (as low as 0% in some cases) are taken at their word, about 1 in every 5 miles pro haulers drive are done with their cargo areas empty. More likely, that number is closer to 1 in 3 or even 2 in 5.
While not all empty miles are created equal - trucks with specialized trailers or flatbeds are more likely to run empty than those with dry van or tank trailers - the issue is nonetheless persistent, the report said. That's particularly true for short- and medium-distance hauls, while longer and local delivery routes were least likely to face this issue.
Most problematically for many within the industry is today's empty-mile rates are most comparable to those seen in the 1970s and '80s, when technology to improve routes and so on were non-existent, the report said.
A tertiary benefit
In addition to the obvious perks of reducing empty miles - saving on fuel and driver costs, increasing operational efficiency and so on - companies that can tackle this problem are also likely to be more eco-friendly, according to separate data from Convoy. For instance, companies which have adopted a Convoy program helps automate reloads has allowed those firms to reduce their empty-miles emissions by about 45%.
If similar rates of improvement were seen for the entire trucking sector, it would save some 78.3 million barrels of oil per year, the equivalent of taking about 7.2 million vehicles off the road, the report said. That number is roughly the same as the total number of registered vehicles in all of Florida.
""For decades, the miles that trucks run empty have been a seemingly intractable source of waste in the freight industry, unnecessarily emitting millions of metric tons of carbon dioxide," said Aaron Terrazas, Convoy's director of economic research. "More efficient route and schedule planning is the future of freight, and has the potential to meaningfully reduce the industry's carbon footprint."
Why it's important
Perhaps not surprisingly, the ecological cost of empty miles can be significant, according to The Guardian. All of the world's top 20 polluting companies are energy providers (fuel companies, in particular), and about 90% of their ecological impact comes from use of their products, versus 10% from extraction, refining and delivery.
With this in mind, companies have a vested interest in reducing empty miles not only because it's better for their operational efficiency and bottom line, but also for the health of the planet as a whole.