Women could be the future of trucking
12/18/2018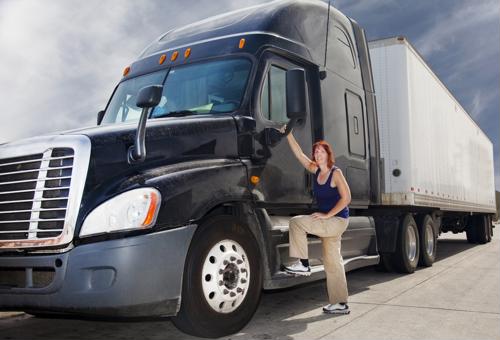 The massive gap between the number of truckers freight companies need to meet demand and the relatively small number of pro haulers actually available to them is a major issue for the industry. With that in mind, businesses may need to do more to reach groups that aren't traditionally represented among drivers industry-wide, including minorities and women. For the latter group in particular, there may be a significant benefit, based on existing data.
Today, only about 6 percent of professional truckers are women, and this despite the fact that data suggests they're less likely to get into preventable accidents than men in the industry and also more likely to keep their jobs, according to Business Insider. As to the accident prevention portion of the benefits women truckers provide, tracking data suggests they are less likely to drive too fast or slam hard on the brakes, and are also less likely to be involved in a forward collision.
"In general, women are slightly more cautious drivers than men," Lauren Domnick, chief data scientist at Omnitracs, told Business Insider. "If you extrapolate that to the big rig, we've seen that women are not as as aggressive drivers on the road as their male counterparts."
At the same time, data suggests turnover rates for women are far lower than those for men in the industry, and women are also more likely to work in teams, which allows them to cover more miles on a daily basis, the report said.
What's the issue?
Unfortunately, perhaps the biggest problem that's keeping women out of the trucking industry at a time when they may be desperately needed is perception, according to the Legal Examiner. Women themselves might not necessarily see themselves as being cut out for working behind the wheel, and freight companies often don't do much to show off the benefits of such work.
To that end, some industry organizations are working to bridge that gap and reduce the number of misconceptions women might have when it comes to a life on the road, the report said. This, in addition to outreach to young people and veterans, could help the industry move forward at a time when such progress is badly needed.
Trending up?
The good news is that a similar study of driver populations found that the share of women in the industry is on the rise, albeit slowly, according to American Trucker. Over the course of 2017, the share of women drivers in the study grew to nearly 7.9 percent from the previous 7.13 percent, while the portion of women in freight management also ticked up to 23.75 percent from 23 percent.
That may be a slow version of progress, but at a time when drivers are still leaving the industry due to overregulation and other concerns, slow might not always cut it. To that end, freight companies may also need to get a little more aggressive when it comes to higher salaries, better sign-on and retention bonuses, and improved benefits when they want to attract and retain drivers.