With tighter rules, truckers may need to brush up on safe driving
10/16/2018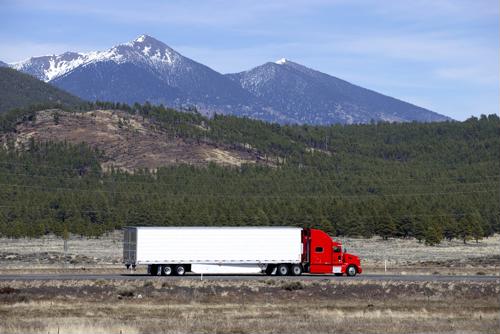 In recent months, a lot of truckers and freight companies have expressed grave concerns about the ways in which electronic logging rules and on-duty requirements have impacted their daily operations. These rules may pose a serious safety concern because they could lead drivers to step on the gas to meet their deadlines. Unfortunately, ELD and on-duty regulations aren't likely to change any time soon, so becoming more familiar with ways to drive safely and effectively is probably a good idea at this time.
Obviously drivers are going to understand that speed is likely to be a major risk any time it gets too excessive, but there are plenty of other road conditions that can lead to significant safety issues, according to Trucking Truth. Perhaps the biggest is in the rain, when roads are slick but people don't slow down as they typically do when it's snowy or icy.
The problem, then, is that people - both professional truckers and people just driving from one point to another - often adhere only to the posted speed limit even in slick conditions, but pros need to be more cognizant of their surroundings than that, the report said. This means staying below the speed limit when roads get wet, but also when traffic starts to get a little thick and, at this time of year, when there are lots of leaves on the ground.
"I can't tell you how many times in my 15 years of safe driving that I was incredibly thankful for having maintained a safe following distance," professional trucker Brett Aquila wrote. "Man have I seen some unbelievable wrecks happen right in front of me! But because I was a safe distance behind those vehicles I was always able to avoid getting involved."
Getting out in front of the issue
With this in mind, drivers should always strive to hit the road only after they've done all their homework on their planned route, according to Truck Drivers Money Saving Tips. Even if it's a route they've driven hundreds of times in both directions, making sure to take into account traffic patterns, alternate routes, road construction, and especially weather for the length of the drive is important to have fresh in mind.
Meanwhile, many of the issues listed above also must be accounted for when getting on and off highways, the report said. Ramp speed is, of course, a major subject for drivers to keep in mind at all times, but when conditions are especially dicey, it's even more important.
Other things to keep in mind
With speed being such an important consideration in the course of daily work, drivers may like to throw their vehicles into cruise control sometimes, according to Smart Trucking. It's often a good idea, but here too it's important to be cognizant of road conditions. If trips are more or less a straight shot, there's not too much traffic visible and conditions are dry and safe, then using cruise control is a great idea, but if any one of those issues present themselves, drivers need to adjust quickly.