Great Apps for Truck Drivers
9/15/2017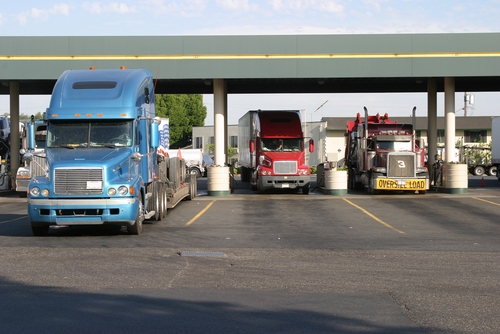 These days, it's practically necessary to have a smartphone, especially on the road. These devices have myriad capabilities and functionality that regular cell phones lack. Even something as simple as a high-quality speakerphone can be a boon to many drivers who want to talk to friends and family while on the road - and do it safely. Additionally, many smartphones also have video chat options, so drivers can see and speak with those they miss - of course, not while driving.
Developers have created apps for just about every occasion or need under the sun, and many of these apps cater directly to truck drivers and their lives on the road.
Apps for information
Some applications designed for truck drivers aim to make it easier for them to work in unknown territory. For example, according to Factor Finders, the app Trucker Path Pro allows drivers to enter and share information about different stops, areas of the country and places to park. Those entering somewhere new can look for tips from other drivers who are more experienced with the areas in question. Notes can range from the best places to get gas to truck stop reviews and places to park.
Another app called Fuelbook lists the most economically priced gas stations, and has data on over 7,000 gas stations and fuel stops across the country, according to the source. For those looking for the best rest stops or places to stay, Allstays can provide useful information. Truckers can use the search function within the app to find specific services and restaurants for their needs, ranging from places to do laundry to the nearest Wendy's.
Apps to stay healthy
Everyone feels like they need to watch what they eat from time to time, and some truckers find it very difficult to do so, especially when away from home for long periods of time. According to Trucking Info, those hoping to pay more attention to attend to their diets can download the FatSecret Calorie Counter app. It allows the user to search for the nutritional values of a wide range of foods, track their calorie intake and scan the barcodes on pre-packaged foods for detailed information.
Factor Finders featured the app Lose It! for drivers aiming to drop some weight. Not only can users enter calorie information and track their workouts, but they can also get some helpful motivation from other drivers. The app has a built-in network feature to connect up users looking for support, tips or just to get on track. This can be invaluable to drivers who find it hard to stick to a workout routine because they need support from others.
Drivers can also download games, audiobooks and radio for when they want to relax in the evenings. There are also free video calling services such as Skype for those who want to connect with family and friends back home. Apps can certainly make life easier, and truckers may discover new programs and information that they find they couldn't live without.