Stay healthy through cold and flu season
11/30/2017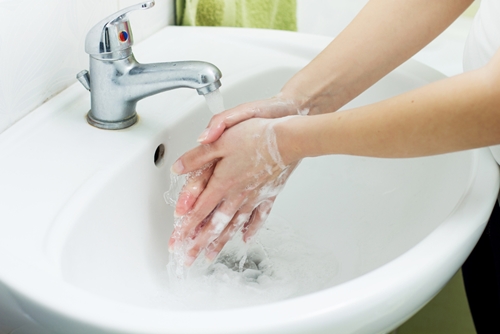 Truckers may spend most of their time solo, which is great for staying germ-free, but they also spend a great deal of time in rest stops and other public settings. While you may be inclined to wash your hands, use hand sanitizer and practice good personal hygiene, you can't expect the same from everyone else. And as the temperature has dropped in many parts of the country, this means it's time for colds and the flu to abound: No one wants to get sick in the middle of a long assignment. Fortunately, it's fairly easy to protect yourself. If you follow these guidelines, you should make it through this season with minimal complications:
Clean, clean, clean
How many people have you seen leave restrooms without washing their hands? Don't be that person because it should be obvious, said CDL Jobs: You should always lather up and rinse off those digits after hitting the head. In case of a porta potty situation or no soap in sight, always carry hand sanitizer with you. Place a small bottle in your cab and carry one on your person for whenever you need it.
Now your hands are covered, the source also suggested keeping your cab clean and neat. Invest in some anti-bacterial wipes and dashboard cleaning cloths that can be tossed once used. Not only will it keep the space smelling fresh, but this can help cut down on the spread of germs. And you'll have an excuse to keep the space neat and tidy.
Get your flu shot
It may seem like an impossible thing to schedule, but it is extremely important that you get your flu shot, the Centers for Disease Control and Prevention (CDC) advised. The next time you are home, head over to your local drugstore or schedule an appointment with your primary care physician. It won't take long, and you'll be a little bit more protected. The CDC said that it is best to get the vaccine before the end of October. If you are dragging your heels, just remember that if you get really sick, you won't be able to work and this means you will lose out on income, which nobody wants, especially around the holidays.
Practice self-care
How many times have you stayed up to drive late and felt miserable the next day? Lack of rest can compromise your immune system, and Health said you need to ensure you get adequate sleep. If you feel tired, it's harder for your body to fight off an infection, so perhaps try to adjust your schedule to allow for more sleep. Additionally, a healthy diet means that your body will be functioning at full capacity, so ditch the fries and add a salad with your meal next time you stop. Grab some healthy snacks like almonds, carrots and hummus and yogurt at the rest stop instead of the Pringles.
You don't have to walk around in a Hazmat suit until the spring, but it is important to be mindful when the risk is high of a bad cold or the flu. Try to stay away from anyone looking sick, remember to eat your greens, wash your hands and get that flu shot. You should be on the road without interruption if you remember to take the right precautions.