A new app for trucker health
11/13/2017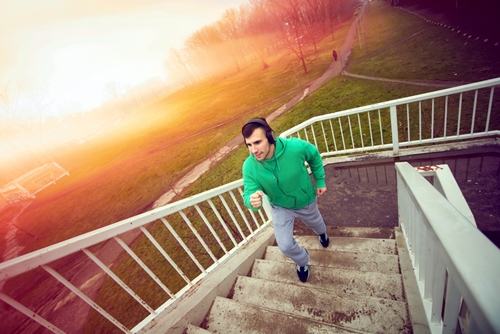 Some ways to be healthy involve eating whole, unprocessed foods, refraining from nicotine use, getting adequate exercise and plenty of rest at the end of the day. Truckers often struggle with one or all of these. Their job involves being seated for long periods of time, access to fresh, healthy food can be limited thanks to subpar rest area facilities, and they often find it difficult to enjoy adequate rest in the evening.
Wearable technology or fitness bracelets can help some individuals become more aware of their activity levels during the day, and truckers can join fitness-related groups on social media to connect with others hoping to live healthier lifestyles. Most often, however, it is up to the individual to take responsibility for his or her wellness, and there are plenty of apps to help them achieve their goals. One new program was recently released by Rolling Strong, and it offers different ways for truckers to keep fit while presenting options for better meal choices.
Well-rounded assistance
The new, eponymous mobile app aims to offer nutritional guidance in addition to fitness programs for truckers. Available for iOS and Android devices, the app even helps truckers with their sleep wellness, tracking patterns and logging hours each night. The user wears an integrated activity tracker which captures necessary data and sends it back to the device.
In terms of staying fit, truckers can select different workouts of varying lengths, many of which involve using a person's body weight as opposed to any equipment. Beginners can look for simpler activities and as they become stronger, there are more intense and lengthy programs from which they can choose.
The mobile app's nutrition guidelines present ideas for the most healthy meals possible at upcoming rest areas based upon the facilities. Users can log their calories on a daily basis and track how much they should or should not be eating throughout the day. This can help some drivers to stay in a healthy range for their needs.
Steve Kane, president of Rolling Strong, said, "The nation's 3.5 million commercial drivers face challenging conditions, including sitting in a sedentary position for long hours, lack of exercise and sleep, and limited access to healthy choices. In addition to the health and wellness issues drivers face, the cost to carriers is seen in higher turnover, injuries and accidents. The new Rolling Strong mobile app extends our efforts to provide a highly effective mobile health and wellness platform for the trucking industry."
Forming good habits is key to success
It can be all too easy to slip back into familiar routines, like ordering fries as a side to the main meal or slipping into the fast-food joint to grab something quickly and get back on the road. However, forming healthier habits can help truckers on their wellness journey. A post on the Roadmaster blog highlighted that drivers should be realistic about their eating. Choices will sometimes be limited, but they can always pay attention to portion sizes, bearing in mind that restaurant servings are more hefty. Worst-case scenario, take the rest of the meal to go and have it the following day.
In any situation, truckers can always swap soda for water and save themselves many calories. Additionally, choosing a turkey burger or chicken sandwich over beef, asking for vegetables on the side and skipping the bun can be other ways to cut calories but still enjoy a satisfying meal.

The small changes can lead to bigger life adjustments, but no matter what, being prepared to learn new behaviors is a great way for any trucker to jump on the road to better health.