Great U.S. trucking routes
11/6/2017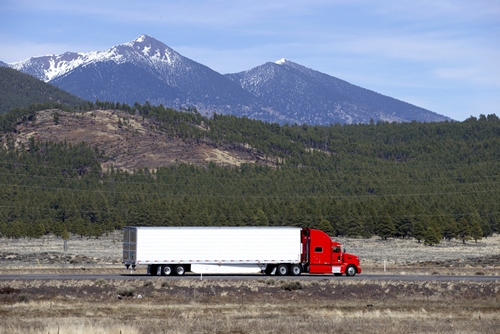 Travel is a huge perk associated with becoming a truck driver. While it may not be as glamorous as flying, and it can cause stress especially when deadlines are tight, there is nothing like heading out on the open road. Truckers can, quite literally, see the country through the course of their careers. They may not have copious time to go sightseeing, but there are plenty of routes that will take them through gorgeous and unusual country.
Moving through the mountains
The roads are winding, you feel high above the world, and the scenery is dramatic: You must be on a route through the mountains. According to HDS Trucking Institute, an assignment through Virginia and the Carolinas will see you through some memorable country. Those passing along the aptly-named Blue Ridge Parkway can expect be on the road via the Great Smoky Mountains and Shenandoah Valley. These areas are home to stunning foliage, rare bird species and, of course, the notable landscape itself. While it is known that drivers are not vacationing as they pass the mountains, there are ample rest areas with hiking facilities, so if a stop is scheduled, you can get some exercise and a break off the clock.
Think of Texas
The Lone Star State is vast and quite attractive. Trucks in Texas highlighted some of the most visually-interesting routes in San Antonio and Fredericksburg proximity. Should drivers find themselves in that part of the state, the Texas Hill Country is something to behold, with vineyards and curious terrain. Enchanted Rock is close to Fredericksburg and is clearly visible at 425 feet tall and 1.5 miles wide. Made of pink granite, it is a former volcano which did not erupt. Drivers who head that way in the springtime should also note the bluebonnets which frame the road, enhancing it with a lovely, seasonal shade.
Those heading closer to San Antonio can be on the lookout for Pedernales Falls State Park. With plenty of waterfalls, ancient limestone slabs and hiking trails, drivers should plan a pit stop nearby to enjoy the scenery and stretch their legs.
Crossing the country
There's nothing more satisfying than driving across the entire U.S. on a job, and some of these routes were named the best by Armada Trucking. Drivers reportedly love the Pikes Peak to Ocean Highway, which starts in San Francisco and ends in New York City, and the Jefferson Highway, heading from Winnipeg, Canada, to New Orleans. Those on the latter route can expect to enjoy diverse terrain, and even more contrasting opportunities to take pit stops, as the route simply passes through so many different places.
Wherever your work takes you, keep your eyes on the road, but don't miss out on the opportunity to spot some unique landmarks and beautiful countryside. If possible take a break and grab some photographs of land many people don't often get to see. After all, the open road is your place of employment.