Truckers can get fit
10/31/2017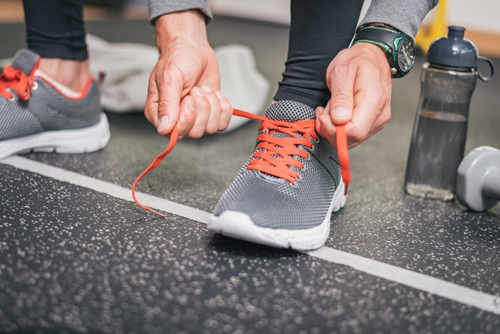 There's no way to avoid it: If you choose a career as a truck driver, you will be sitting for long stretches of time, especially if long-haul driving is most appealing. Some people don't mind this, but others can feel uncomfortable after spending hours in a small space, such as the cab. It's good to get out and move when possible, even if that means just taking a short walk, or stretching, as physical activity is an important component of a healthy lifestyle. However, truckers tend to fall short on getting enough exercise into their days. With few facilities in which they can work out, and rest areas offering fast food instead of the promise of a fast workout, it can be easy to slip into a more sedentary lifestyle.
Yet truckers' wellness is extremely important, as a recent American Trucker article indicated, and the industry is invested in encouraging more truck drivers to work out and make healthy food choices. But many drivers can't take a couple of hours and stop at a gym, so high interval training may be the right way to get exercise in each day.
HIIT training for truckers
According to the source, high intensity interval training or HIIT is appealing because it condenses a strenuous workout into something more manageable. The idea is to complete short bursts of exercise where the individual in question works as hard as he or she can. This can be in the form of 100 meter sprints, Burpees, squat jumps or other bodyweight-based exercises. Then, after completing an intense, short session of 30 seconds to a minute, the participant will rest before tackling the next round of activity. The source even predicted that HIIT will be a major trend for truckers and exercise in 2018, coming in above group fitness training. On the other hand, this kind of workout is only one way that truckers can become more physically active, so if the meditative aspects of running sound more appealing, one can even train for a marathon while on the road.
Think about running
Lacing up a pair of sneakers and taking off on a run can be extremely liberating and calming for some individuals. For truckers, running can mitigate the stress of being on the road, but it is also challenging to carve out the time required to run. According to Truck News, it is entirely possible to run a marathon and have a truck driving career, but you have to organize your time wisely. One of the drivers interviewed for the piece teamed up with three other truckers to train for marathons. He told the source on occasion he would rise at 4 a.m. to make time to run. This meant that some days, he felt more tired than others. However, he and his fellow runners feel passionate about their chosen activity, which makes them motivated to schedule running time.
Join a group
If you've decided to hop on the road to a fitter lifestyle, this is an important and empowering decision to make. Yet it can be challenging to work out solo, and also difficult to coordinate with others who want to make similar changes if you are all in different places. However, Trucker Classifieds noted that those looking to become more active should look for opportunities to join online groups via social media. The Facebook group Truckin' Runners is up to almost 1,000 members and features member posts where they announce milestones and daily workouts, and events like virtual races where participants RSVP to a distance on a certain date, and then complete the run on their own time. Members also ask for advice, such as good cold-weather gear for poor conditions, and how best to fuel up for longer runs. There are also posts about how people have changed their lives since starting to run, the improvements they have made physically and mentally, and how their running has progressed.
Whether you choose to fit in long-distance running, or opt for HIIT training, making room in your life for exercise will only bring benefits. You may find that you sleep better, feel better and can easily make healthier choices throughout the day, as well as perhaps expanding your personal and professional network.